Fireside Models - simulated flame
Shown here are few artificail flame models with a distinctly fireside feel to them, all of which are just perfect for lonely hearths out there in the community. This range is based around the Fire Lamp and they are thus similar in scale, i.e. about a foot or so in height.

The 'FirePlace' is a cute representation of a traditional fireplace and is formed of cream polycarbonate and has the most realistic grate and logs.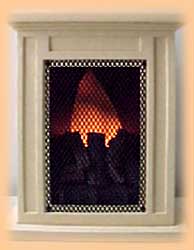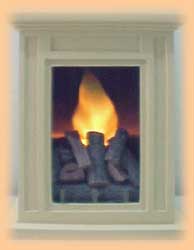 The FirePlace Specifications

Style
Polycarbonate,includes
optional mesh cover

Dimensions
Height: 320mm
Width: 270mm
Depth: 150mm

Colour
Cream Stucco Finish
Transformer
12v, 12w plug-in lead 2m lead
Flame
1 x red
1 x saffron, single
Lamp
10w G4
The 'Stoves' are a couple of variations on the theme of a burning stove. This fake flame model is supplied with a twin flame for a greater 3-d effect and a lovely glowing artificial flame.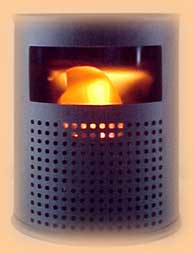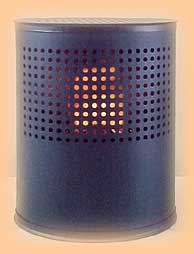 The Stoves Specifications

Style
Black Powder-coated steel,
specify open grill or closed

Dimensions
Height: 262mm
Width: 215mm
Depth: 165mm
(oval)

Colour
Black
Transformer
12v, 5w plug-in lead 2m lead
Flame
1 x twin saffron
Lamp
5wMR11
The Brazier comes in matt black or brushed chrome and uses a sophisticated reflective film to multiply the flame effect - if you saw this in the street, you'd throw a bucket of water over it. Fake fire at its best.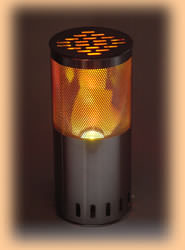 The Braziers Specifications

Style
Cylindrical, Matt black
or Brushed Chrome

Dimensions
Height: 280mm
Width: 120mm

Colour
Black / Brushed chrome
Transformer
12v, 10w plug-in lead 2m lead
Flame
1 x saffron
1 x white, single
Lamp
10w MR11
For Fireplace Designers who want to develop their own models, please see the FireLamp and Flame Machine pages.